Founded in 2022 by local mom and theater educator, Hannah Eppling, Little Characters is a theater company focused on developing real life skills through theater education.

A Pre-K mom's group text can be thanked for sparking the idea that is now Little Characters. Hannah noticed that in recent years, the Athens area lost several of its historic kid's theater companies, affecting so many children and families in the community. The creation of Little Characters was Hannah's hope to continue fostering the joy and connection that theater creates for students of all ages and abilities, starting with summer camps. By combining her life-long experience in theater and care for the hearts of others, Hannah set out to create programming for people from all walks of life.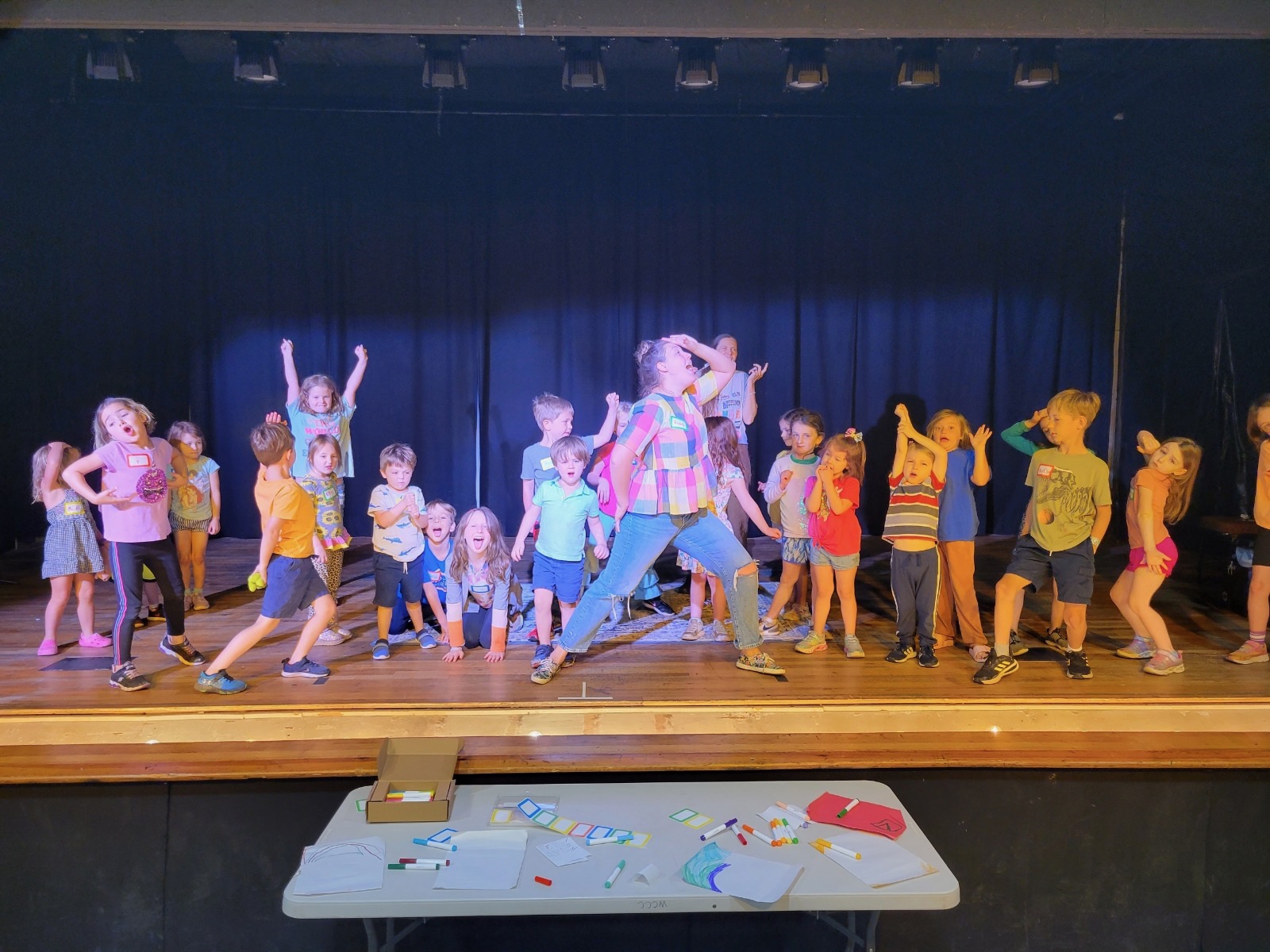 Little Characters believes that everyone is born with beautiful, unique gifts, and strives to help their students identify these gifts and help them flourish, both on and off-stage. The staff of Little Characters are trained to meet students where they are: whether it's nervous, or excited, first-timers or masters of the stage. They believe it is important to get to know each "Little Character" and help them feel comfortable and curious to learn.

"Theater is all about people, and what a way to learn about how people tick, how people act out of emotion, the why's behind what people do what they do - exploring our own emotions and relationships through play and rehearsal - it's really magical!", Hannah shares. Rehearsing with friends is one thing, but performing in front of others can be intimidating! With more than 150 students and twenty educational events in the first year, Little Characters has fostered skills and confidence through intentional instruction and individual affirmation. Little Characters aims to deliver high-quality performances that showcase the individual performers' new skills and confidence for friends and family. The instruction prepares them for every stage in life, both in the theater and beyond. At the end of the day, building up "Little Characters" for the real world will always be the main goal, and performers will always be more important than the performance.


| | |
| --- | --- |
| | |
Little Characters classes, camps, workshops and adult events through sister company, Geode, place the student at the center at all times. In classes, students get to know each other and foster a team environment through games, exercises and trust experiences. Then, build confidence, express emotions and grow communication skills by working on scenes, scripts and character development. Students will also get messy from time to time with crafts, helping to make the set for their show and other art based games and activities.
Parents are blown away by the level of dedication that is shown to the students through the program staff: "Little Characters did not disappoint! Kindness, energy, and excitement was infused into every encounter within her team. My children were excited to go every day and had a ball! The performance at the end of the week allowed the children to just have fun, while learning and expressing themselves! We will make this one of our annual camps!", shared a parent of Little Characters campers from this summer. Little Characters is continuing to expand their offerings to meet the needs of the community.
New offerings include holiday mini camps, classes for students with special needs, more summer camp availability, and a "Techies" class for the students who prefer to stay behind the curtain. They are excited to announce that programming will now be held in both Athens and Winterville!
Connect with Little Characters Theater Troupe
Little Characters cannot wait to welcome you at any of their upcoming events, camps, classes or workshops. Learn more about Little Characters by following them on Facebook and Instagram (support them with the handle @littlecharactersathens) or by visiting their website at www.littlecharacters.org.

Do you have an inquiry or want to register? Click here!

Reach out to Hannah by e-mail: littlecharacterstheater@gmail.com or by phone: (281) 798-2623
Learn more about the classes that are being offered for the 2023/2024 season!
---
Save 21% on Georgia Aquarium Admission when you purchase your tickets through Mac KID Athens!
Georgia Aquarium Admission
Explore the mysteries of the deep


— View deal on CertifiKID
This article contains affiliate links in which Mac KID Athens receives commission for purchases made through this site.