August is National Sandwich Month and Macaroni KID Athens wants to help spread the word about a tasty, local gourmet sandwich cafe that offers a southern menu with a twist!
Marti's at Midday, named after the late Marti Schimmel, is a local family-owned business located in the Normaltown Neighborhood of Athens, GA who serves sandwiches with fresh-baked breads, homemade soups, salads with fresh ingredients, and draws customers of all ages.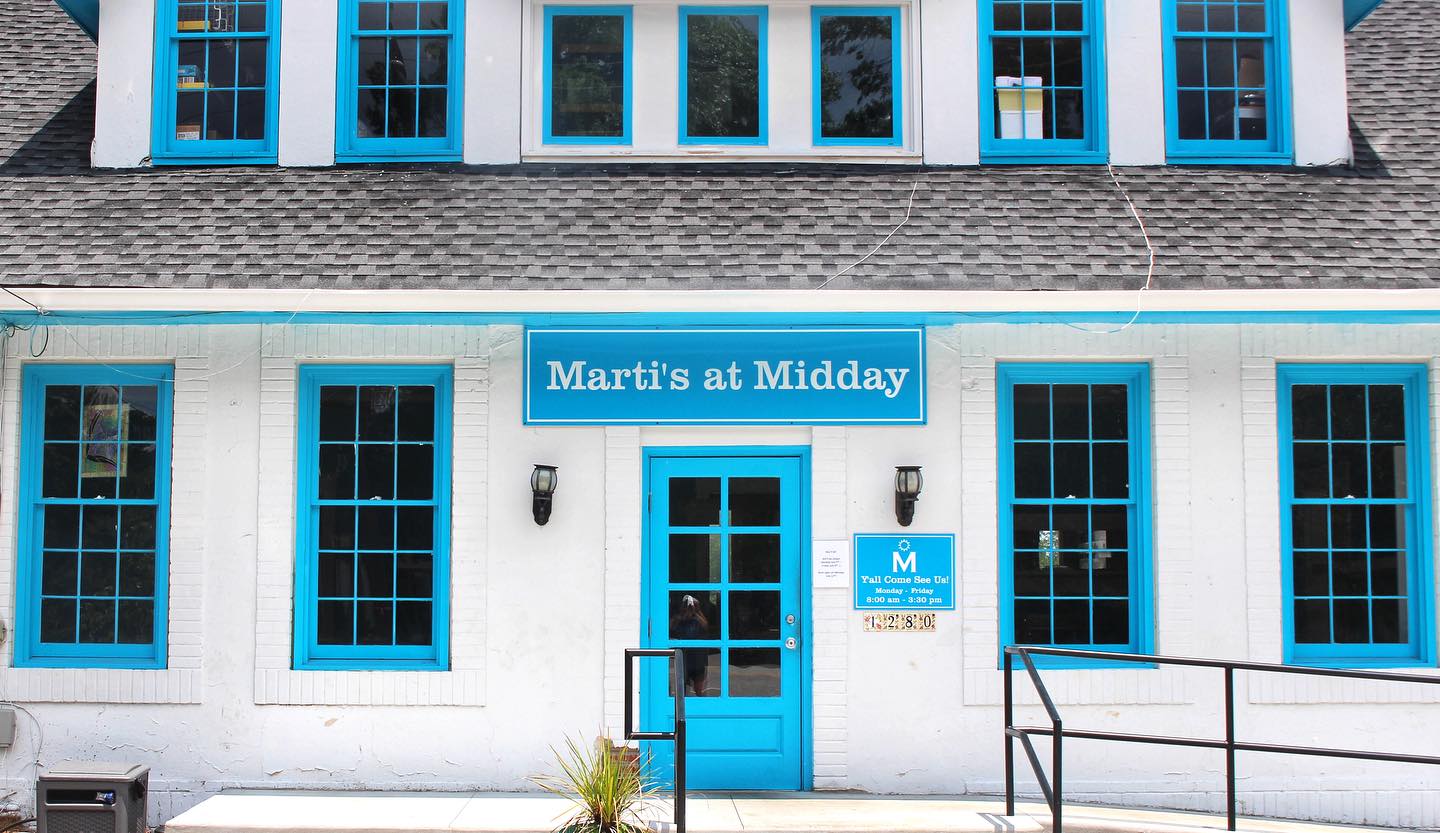 Driving along Price Avenue, the cafe boldly stands out with it's beautiful 1930's suburban architecture and sky blue front door and trim. Since opening in 2002, the cafe is known for their quality food, but did you know that many of these items are named after Marti's closets friends? Her memory continues to live through her menu!

Since Marti's passing, the restaurant is currently ran and operated by Marti's Mother, Janet, and Brother, Jay, who both strive to honor Marti's dream of making this establishment possible, and that it remains an active source for local community outreach and support.
Learn more about Marti, her family, and passion for food by reading this article posted by The Local Athenian.

Come celebrate National Sandwich Month with Marti's at Midday, and make sure you stop by to try "The Amy": a curry chicken salad sandwich filled with dried apricots, seedless grapes, and subtly seasoned curry chicken that is scooped onto toasted fresh-baked bread - a popular choice among customers.
Time-Saving Catering Options for Your Gathering
While Marti's at Midday provides outdoor and indoor seating for the lunch and dinner crowds, they also offer a Catering Menu with options specially designed for brunch, weddings, dinners, and ultimate tailgate parties for you to enjoy on-the-go.
Football season is quickly approaching and tailgating is a must in Dawg Nation! Take away the stress of shopping, prepping, and packing by choosing a meal that includes 2 meat items, scrumptious sides, a pimento cheese platter, and a sweet treat!



Connect with Marti's at Midday
Location and Hours
1280 Prince Avenue
Athens, GA 30606
(706) 543-3541

Monday - Friday: 8:30AM to 8:30PM
Saturday - Sunday: Closed
Catering Available 7 Days a Week

Follow Along On Social Media



See What Our Community Loves About Marti's at Midday
---

Looking for more fun in Athens, GA?
Sign up today for our weekly Macaroni KID Athens newsletter so you never miss a thing!
Subscribe Here!


---
Save 21% on Georgia Aquarium Admission when you purchase your tickets through Mac KID Athens!
Georgia Aquarium Admission
Explore the mysteries of the deep


— View deal on CertifiKID
This article contains affiliate links in which Mac KID Athens receives commission for purchases made through this site.