The school-break season is a hectic time for our librarians! They create and facilitate countless classes and activities for us to enjoy throughout the summer months. As summer-break comes to a close, now is our time to show appreciation for all of their hard work. Start off the Appreciation Week, Monday, July 24th, by creating a homemade "thank you" (a card, a letter, a drawing - the options are limitless!), go to one of your favorite local libraries, and give it to one of our many wonderful librarians!
For the remainder of the week, use the Daily Appreciation Guide below to continue showing appreciation all the way through Friday. Find more details below the guide.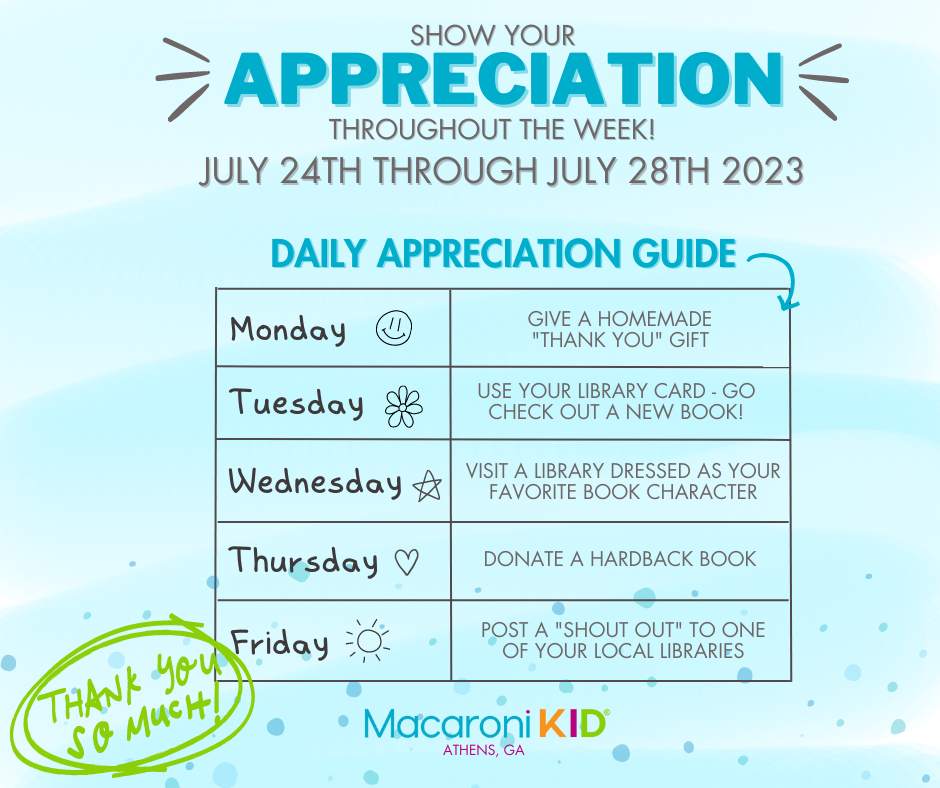 Monday- Give a librarian (or two. or three.) a homemade card, colored picture/drawing, poem in person.
Tuesday - Librarians love when you visit the library! Take time to browse your favorite section, whether it's mystery, non-fiction, or even cookbooks, and check one out. Many librarians take the time to highlight their favorite books on a shelf - ask which one they recommend and give it a read!
Wednesday - Do you have a favorite book character? Create a character costume to wear to one of your local libraries!
Thursday - Don't know what to do with hardback books that can use a new home? Donate them! The main Athens/Clarke library has a bin available to receive donations, or you can bring them to the front desk of any branch and an employee can help. Donations are filtered by Friends of the Library volunteers who decide which books can be used for library book sales, or recycled at Better World Books. Portions of the proceeds received from the book sales go directly back into the ACC library system.
Friday- Use your preferred social media platform to post a "shout out" to your favorite library. Use your creativity here: take a silly selfie, post a video of you telling a library-themed joke, or simply write out your words of appreciation for them to read. Just be sure to tag your library and Macaroni KID Athens/MacKIDAthens so we can see what you create!

Here is a quick list of all of our local libraries to keep in mind:
Aaron Heard Resource Center Library
Athens-Clarke County Library
Bogart Library
Oconee County Library
Statham Library
Winterville Library

Sending a personal "thank you" to all of our local librarians. You always welcome us with a smile and remember us by name. Sometimes it's those small acts of kindness that make an impact. We are so grateful for you.
- Jess
---

Looking for more fun in Athens, GA?
Sign up today for our weekly Macaroni KID Athens newsletter so you never miss a thing! Subscribe Here!